Snap Hooks
Snap hooks—sometimes referred to as only "snaps"—rely on two critical components to function. One of these is the hook itself; the other is a spring snap. The spring snap is located at the end of the snap hook and helps mitigate the likelihood of ropes and other target lines unhooking from a point accidentally.
They are very common in a variety of industries and applications, so Henssgen Hardware offers our customers a broad range of snap hook products to suit any need. We carry multiple types and related parts made of several material options. Our staff of experts is always available to assist customers with selecting the perfect products for their unique and individualized needs.
Featured Product:
---
---
Snap hooks may be physically small, but they are often critical to worker and product safety. Many users fail to understand just how much they rely on these small tools on a day-to-day basis. They are useful components that benefit a wealth of industries and applications.
ANSI specifications (Z359.12-2009 3.1.1.3) dictate that snap hooks must be both self-closing and self-locking. In layman's terms, this means that the resting state of these hooks is closed. Guidelines also specify that it must take a minimum of two consecutive, deliberate actions to open the latch.
Types of Snap Hooks
With an array of them on the market, there is likely an available solution that meets the exact needs of most project requirements. Some examples of snap hook varieties include:
Spring snap hooks facilitate secure attachment.
Panic snap hooks allow for the attached target lines to be released almost instantly.
Trigger snap hooks feature one additional component—a small lever. This lever allows the snap user to easily attach or detach target lines with just one hand.
Fixed-eye and swivel-eye snap hooks have bases that are fixed in place and adjustable, respectively. The' spring on a swivel-eye snap hook turns along a vertical axis.
Heavy-duty snap hooks are specially constructed with durability and strength in mind per stringent ANSI guidelines.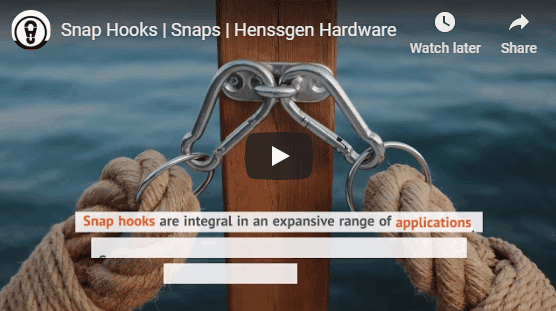 Snap Hooks vs. Carabiners
There are subtle functional differences between snap hook sand carabiners that may be confusing when sourcing an appropriate piece of equipment.
Carabiners, like snaps, contain a spring—but they can only be opened via pushing the gate away from the loop manually.
Conversely, snap hooks release target lines when the gate is pushed towards the loop.
Materials
There are multiple material options available for most varieties of the snap hook. Appropriate material selection helps to tailor the snap hook to its intended use case.
---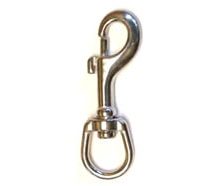 Corrosion-resistant
Known for strength and durability
More inexpensive than many other metals
---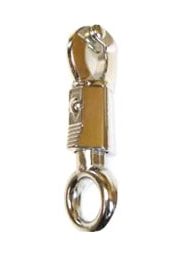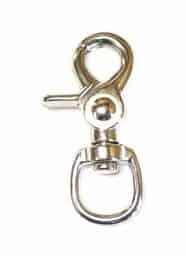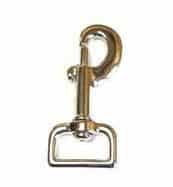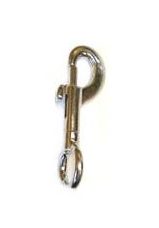 Exceptionally strong
Self-lubricating
Stable
Non-toxic
Scraps are reusable
---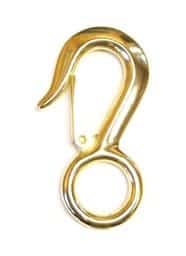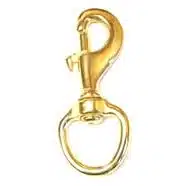 Aesthetically-pleasing
Low friction
Ideal for flammable settings
---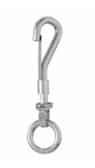 A mix of carbon and iron
Often made with materials like tungsten and manganese to improve mechanical properties
Ideal for large projects due to availability and affordability
---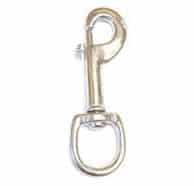 Frequently utilized for small castings
High strength and ductility
Heat-resistant
---
The Many Uses of Snap Hooks
They are integral in an expansive range of applications. Snaps may be utilized for sports equipment, dog leashes, marine hardware, and much more. Some examples include:
Sports equipment, such as volleyball nets, rifle slings, and water ski hooks.
Dog leashes of varying prices and qualities—some consumers prefer swivel-eye snap hooks, others opt for fixed-eye designs.
The dairy industry relies on them for handling cows and navigating complicated body slings.
Other uses include keychains, sweater, and coat clasps, purse fasteners, lanyards, jewelry, and belts.
Snap Hooks from Henssgen Hardware
At Henssgen Hardware, we're determined to offer our clients industry-leading snap hooks at competitive prices. Our team's extensive experience positions us as experts in virtually any of your snap hook needs. We would love to partner with you on your next snap hook project, big or small, and act as trusted advisors as you make your product selections.
Interested in learning more? Contact us today or request a quote for additional information on our products and services.