At Henssgen Hardware, we design and manufacture reliable netting hardware that keep sports equipment secure, season after season. We've been manufacturing and distributing snap hooks and other rigging hardware for more than 40 years, and our product line includes an array of snap hooks, D-rings, O-rings, and other hooks for use with an array of sports nets and other recreational netting setups.
If your Little League team needs a net to catch foul balls (or wild pitches – don't want to hit the spectators behind home plate!)…
If your country club needs to hang your tennis court nets securely…
If your golf course is near homes and you want a net tall enough on the course's borders to make sure the cry of "fore!" doesn't result in broken windows…
…you're going to need the 245 Snap Hook.
The Best Snap Hook to Hold Your Net
Beloved by golf courses, tennis courts, baseball fields, and even soccer clubs, the 245 Snap Hook is tough enough, resilient enough and—excuse our French, but it's apropos—bad ass enough, to hold a net of any size and any weight.
Golfers, soccer players, tennis players, and baseball players love practice nets, as they help athletes perfect their drives, goal kicks, overhead serves, and pitches or swings in small spaces. Homeowners and fans love large nets that protect people and property from damage caused by errant long drives, goal kicks, overhead serves, and wild pitches or foul balls. Property managers and team managers love our 245 Snap Hooks because they know they'll hold their training and safety nets so securely that the manager never need worry about a ball escaping or a net falling down.
Whether you need to secure and hold a 100' x 50' behemoth along the perimeter of your golf course or a 5' x 7' batting cage net, our 245 Snap Hooks will be able to hold the net up fast and secure. The snap hook feature makes it extremely easy to take large and small nets down because the snap portion of the 245 opens easily, no matter the weight of the net.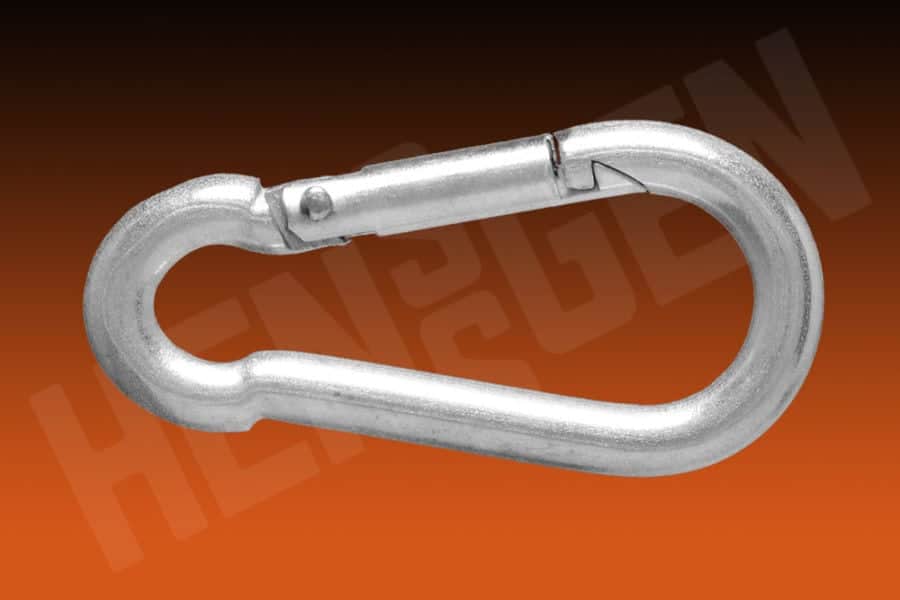 Our 245 snap hook features a hook that can securely catch any rope or net. It meets with a spring-loaded snap catch that holds the rope in place and won't allow its release until the hook is manually opened. The 245 snap hook has a 316 stainless steel construction, making it a sturdy, long-lasting component for all indoor and outdoor netting applications.
We create the molds for our 245 snap hooks using a method known as "lost wax" molding. This method ensures that each hook has a consistently solid cross-section, without the risk of bubbles, gaps, or weak points, because the molten material fills the entire mold. This, in turn, delivers a consistently reliable strength.
Stainless steel snap hooks resist corrosion and rust, even if they're used for continuous outdoor applications. They also resist damage from fire or heat without losing their luster or smooth appearance. The 316 stainless steel we use in every 245 snap hook ensures the longest possible service life.
245 snap hooks are ideal for:
Baseball field netting
Tennis nets
Volleyball nets
Soccer nets
Practice nets
Virtually every kind of sporting net!
Our 245 snap hooks also see sporting uses beyond netting, such as securing rifle slings, water skis, and bird straps. The potential applications for these snap hooks are essentially endless.
Other Types of Netting Hardware
Along with our 245 snap hooks, we provide an extensive range of additional hardware to complete any sports netting setup. Our production capabilities include:
| | |
| --- | --- |
| | D-rings. D-rings get their name because they are shaped like a capital letter "D." This design allows the ring to hold wide bands, ropes, and other fastening materials. It can also slip through grommets and snap hooks to provide a tight hold. We provide D-rings made of welded steel in multiple different dimensions. |
| | O-rings. O-rings have a fully circular design and are the default hardware for securing ropes, net edges, and other materials. Our solid brass cast O-rings feature a seamless finish and welded steel rings with nickel-plated finishes. |
| | Snap hooks. Along with our 245 snap hooks, Henssgen Hardware designs and manufactures an extensive variety of other snap hooks with fixed and swiveling hardware. Choose between scissor snaps, breeching snaps, trigger snaps, bolt snaps, and more to customize your sports netting setup. |
| | Hooks. Our hooks are built from solid brass or stainless steel for durability, visual appeal, and enhanced resistance to most types of damage. Browse our catalog to see our selection of recreational performance hooks. |
---
Quality Netting Hardware From Henssgen Hardware
Sports netting systems require heavy-duty installation hardware you can rely on. Our hooks and snap hooks are built to outlast the elements and daily wear. At Henssgen Hardware, we've been providing durable rigging hardware for an expansive range of industries since 1978. We pride ourselves on superior products and excellent customer service. Please contact us or request a quote for assistance in selecting the best snap hooks for your recreational net.