Awnings provide functional, aesthetically pleasing protection over decks and patios. With the right hardware, consumers and businesses can enjoy sturdy, safe awnings that require minimal maintenance and repair. At Henssgen Hardware, we have mounting and rigging hardware for small and large covers, retractable systems, and fixed awnings.
In this article, we'll discuss:
---
Awning Hardware
Our products include the following awning hardware pieces:
Mounting brackets
Swivel-eye pulleys
Swivel-eye bolt snaps
Large harness swivel-eye pulleys
Fixed eye trigger snaps
All-purpose snap hooks
All-purpose snaps with grommet
. Snap Hooks
Snap hooks are useful tools for customizing pulley systems that support retractable and moveable awnings.Double-end hooks and snaps allow for custom configurations that support larger awnings that cover more surface area but need to be connected into a single system.
At Henssgen Hardware, our snaps come in two key types: bolt snaps and trigger snaps. Bolt snaps have a release that can be pulled down by a spring-loaded button. Trigger snaps have a lever that releases the snap and opens it when it's pushed down. Trigger snaps are easy to operate one-handed and offer a more secure hold.
. Pulleys for Smooth Hoisting & Tensioning of Your Awning
The Sprenger Pulley

Sprenger pulleys are swiveling pieces of hardware that can support the awning weight for retractable and moveable systems. They're constructed from stainless steel, have swiveling eyes, and can each support a weight load of about 330 pounds. They also feature a nylon wheel with anti-wobble technology for smooth operation and handling.

This high-quality pulley from the yachting sport for ø6mm ropes with one or two pulleys makes it possible to hoist and tension awnings quickly and without effort on the mast or wall bracket.
If you use a single block, take advantage of the simple comfort of the hoist system.
In combination with a single block mounted at the tip of the awning, the double block provides you with further advantages: heavyweight becomes light and the hoisting of the sails is transformed from a massive task into a simple job with the help of the pulley – you need three times less power to tension the same sail.
Hoist & tension the awning very easily – in combination with a double block 3 times less effort
Weatherproof & load-bearing material made of stainless steel and UV-resistant plastic
High breaking load of up to 700 kg and maximum flexibility due to swivel equipment – practice-proven quality from yachting
Pulleys are available in different sizes and configurations – up to 2.500 kg/ 5500 lb breaking load
---
Hardware for Different Awning Types
At Henssgen Hardware, we create multiple types of hardware solutions to best fit different awning configurations.
. Retractable/Moveable Awning
Retracting and moving awnings give homeowners more control over how much shade they have on their deck and patio. Since the awning cover moves, the awning hardware has to easily accommodate the movement without sacrificing structural security.  With this type of awning, it's important to plan for these hardware elements:
Mounting brackets. These fixed components are attached directly to the home's siding or brick exterior. They provide a secure mount that can support the weight (or a substantial portion of the weight) of the awning. Both fixed and retracting awnings need high-quality mounting brackets.
Swivel-eye pulleys and snaps. Moveable awnings need to be accompanied by hardware with swiveling eyes. This freedom of movement allows for easier control of the awning's motion without snagging or tugging. Awnings use both pulleys and snaps to move along the harnesses and cords. Because this hardware is continuously exposed to the elements whether the awning is retracted or extended, it's important to select high-quality metals with corrosion-resistant finishes. Sprenger pulleys are engineered to allow for smooth movement with minimal effort.
Swivel Eye Double Pulley
Swivel Eye Bolt Snap
The specific hardware required for your awning may also depend on whether it's motorized or manual.
. Large or Small Awnings
Fixed awnings need specialized mounting hardware to stay secure. Just like retractable awnings, fixed patio shades need mounting brackets that attach one side of the awning to the exterior of the house. However, fixed awnings don't need additional pulleys and snaps that allow for easy movement. Instead, primary considerations include resistance to the elements, corrosion, and long-term wear. If the awning is left fully extended throughout the year, the hardware needs to be able to intermittently support the weight of water, leaves, and snow.
For most awnings, the hardware is arranged in grids or columns that support the awning material as it extends away from the property wall across the patio. Larger awnings need more columns to support the weight across the wider expanse of material. Installing at least the minimum amount of rigging hardware is essential whether the awning is a solid piece of material or parallel strips of material. Additional rigging hardware may be required if the fixed awning will frequently be subjected to high winds.
---
---
The Benefits of Stainless Steel Hardware on Awnings
Different types of awnings require different types of hardware. Regardless of the specific style or features, it's essential that the material of the hardware be sturdy and resistant to the elements. Stainless steel is a popular choice for long-term exterior installations. Some of the benefits of choosing this alloy for awning hardware include:
Corrosion resistance. Stainless steel has little-to-no risk of developing corrosion and rust that can weaken the fasteners or inhibit easy awning movement.
Strength. Stainless steel is a strong metal that can support the weight of the awning in an extended and retracted state.
Good strength-to-weight ratio. Not only is stainless steel strong, it's also relatively lightweight. That reduces the burden put on the awning supports and mounting brackets. The lightweight also maintains easy operation for manually retractable awnings.
Resistance to physical damage. Stainless steel can withstand abrasions, scratches, impact damage, and wear over multiple seasons of use.
Appealing finish and appearance. Our stainless steel components have a shiny, smooth finish. The silver cast of the metal pairs well with almost any awning design or color. The metal can also easily be cleaned to retain its reflective shine.
316 stainless steel is especially well-suited for withstanding moisture and damp weather, as the alloy includes molybdenum and a reduced proportion of carbon compared to other types of steel. It also resists damage from seawater, which is especially corrosive, making 316 stainless steel hardware ideal for mounting awnings on beach houses and other structures near the ocean.
Other Hardware Materials Used
Henssgen Hardware also distributes hardware made from other popular metals and alloys. These materials include:
Die cast zinc. Zinc can have a variety of decorative finishes. Die cast zinc is especially resistant to damage from exposure to high temperatures.
Brass. Brass resists damage from saltwater, even when it's completely submerged. This is ideal for coastal properties.
Nickel-plated metals. A nickel-plated finish adds greater corrosion and water resistance to mounting hardware. The plating is resistant to wear, which is good for retractable awnings. Nickel-plating is also more cost-effective than pure stainless steel parts.
Each of these metals, along with stainless steel, are excellent choices for different instances of long-term exterior applications like patio awnings.
---
Slide Rail System for Awnings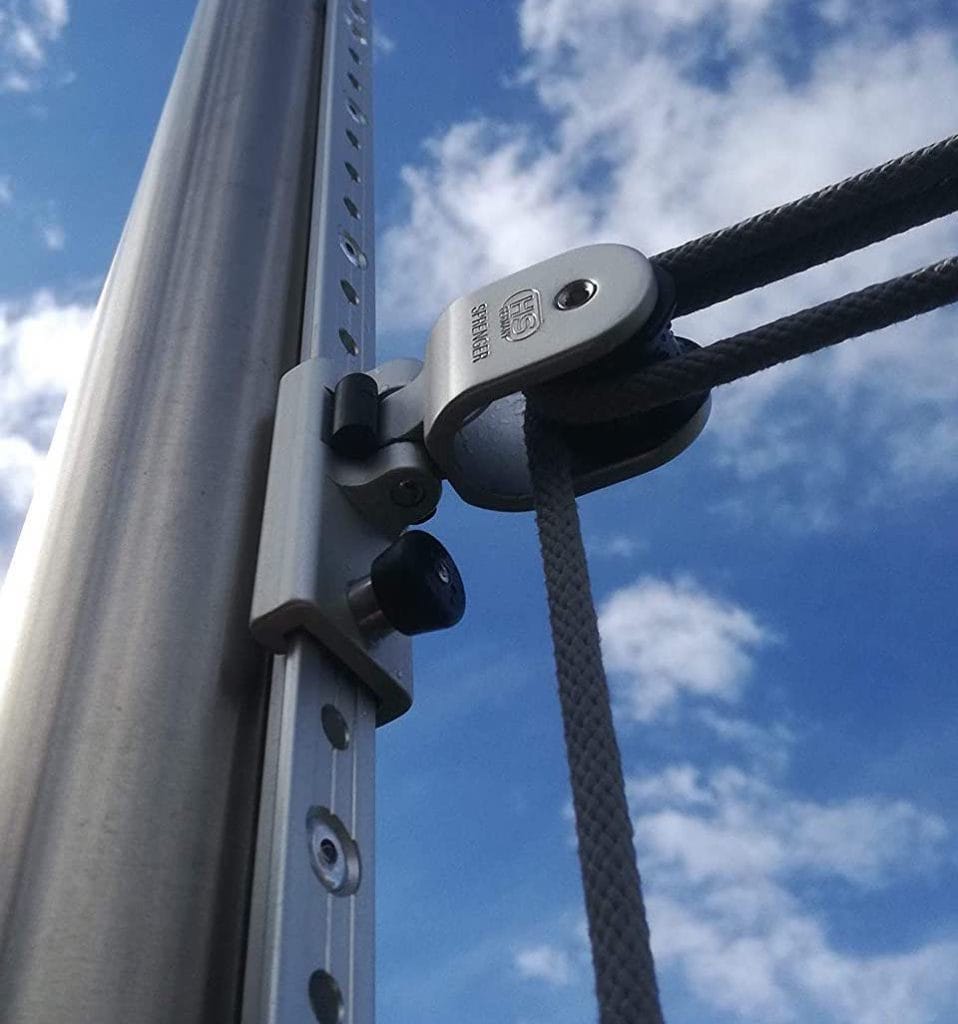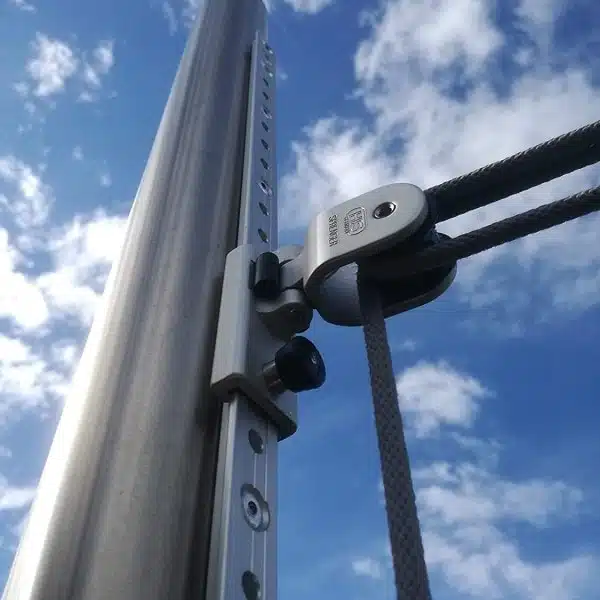 Sails can be easily, quickly, and comfortably adjusted in height.
This high-quality slide rail for sun sails can be mounted on any solid and level surface (e.g. wooden beams, metal masts, etc.). This allows you to adjust the height of your sail individually.
The systems are also tested in use on yachts and can, therefore, be used in all weather conditions.
A height-adjustable sun sail with slide rail system offers you the following advantages:
The height of the awning can be adjusted in a few seconds
Relieve the load on your sail – set the optimum angle of inclination for your sailcloth
Adjust the sail height to the current position of the sun for more shade – at any time & in small steps
Conveniently set a proper water drainage in rain or for privacy protection
Ensures less friction loss and more traction & durability
Weatherproof Materials and Comfortable Handling

Anodised aluminum without air inclusions gives the slide rail system break resistance and weather resistance. Thanks to the hole spacing in slide rail of only 20 mm, you can also easily fine-tune the awning.
The tracks and slides are available in different versions (up to a length of 2m /6.5 ft)
---
Quality Awning Hardware from Henssgen Hardware
Henssgen Hardware is a leading distributor of snap hooks, pulleys, and other metal hardware. Since 1978, we have helped distributors and manufacturers find the right mounting and rigging hardware for a variety of exterior and marine applications. Our catalog includes over 100 types of snap hooks, links, pulleys, and other rigging hardware constructed from high-quality metals.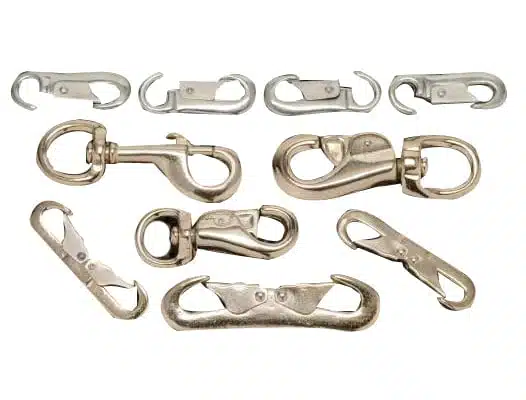 Choosing the right hardware for your awning can make it sturdier, easier to operate, and enjoyable year after year. Not only is it important to pick the right styles of hardware that best suit the size and type of your awning, but it's also important to pick the right materials to withstand the elements your awning will be exposed to. Contact us today for help selecting the right hardware for your awning.